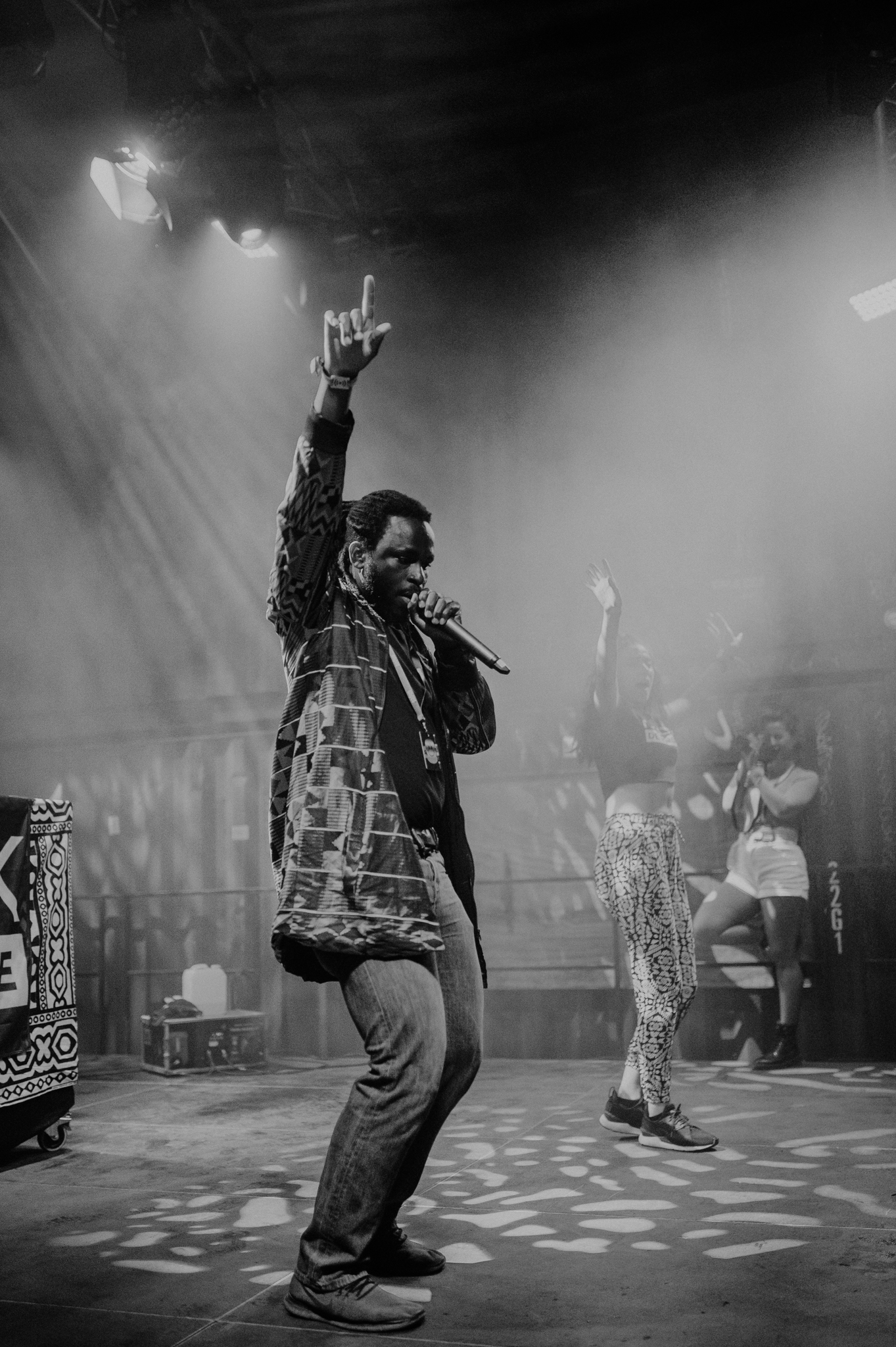 DJ Freegah at splash! Festival 2019
A native of Ibadan, one of Nigeria's oldest cities, Freegah grew up during what is arguably the most influential periods in Afrobeats history. His passion for Africa-inspired music genres and acquaintances with dynamic DJs across the continent would later inspire him to take up the turntables when he moved to Europe.
The Cologne-based DJ has honed his skills playing at a number of special events, music festivals, and major clubs around Germany, including shows alongside prominent DJs and national acts. His personal highlight so far being a gig in front of over 3000 people at the 2019 Carnival of Cultures in Berlin.
Freegah made his festival debut, playing with Freak de l'Afrique at The Splash! Festival, one of Germany's biggest hip-hop festivals.
On the turntables, DJ Freegah loves to give his all, investing his energy to keep the good vibes flowing while connecting to his audience.
Apart from mixing music or wowing frenzied crowds, Freegah is an accomplished Software Engineer/Consultant.
---
Deutsch
Der gebürtige Ibadaner – eine der ältesten Städte Nigerias – DJ Freegah, wuchs in den wohl einflussreichsten Zeiten der Afrobeats-Geschichte auf. Seine Leidenschaft für aus Afrika inspirierte Musikgenres und Bekanntschaften mit dynamischen DJs auf dem ganzen Kontinent inspirierten ihn später dazu, die Turntables zu übernehmen und sich dem Auflegen zu widmen, als er nach Europa zog.
Der in Köln ansässige DJ hat seine Fähigkeiten bei einer Reihe von Veranstaltungen, Musikfestivals und großen Clubs in ganz Deutschland bewiesen, darunter Shows neben prominenten DJs und nationalen Acts. Sein bisheriges persönliches Highlight war ein Auftritt vor über 3000 Zuschauern beim Karneval der Kulturen 2019 in Berlin.
Freegah hatte sein Festival-Debüt und spielte mit Freak de l'Afrique auf dem Splash! Festival 2019, eines der größten HipHop-Festivals Deutschlands.
DJ Freegah liebt es, auf den Plattentellern alles zu geben und seine Energie zu investieren, um gute Stimmung zu verbreiten, während er mit seinem Publikum interagiert.
Abgesehen vom Unterhalten der Zuhörer mit guter Musik, ist Freegah ein erfahrener Software Engineer/Consultant.
Sein persönliches Motto: good vibes only! (Nur gute Stimmung!)
Book me for your next event!